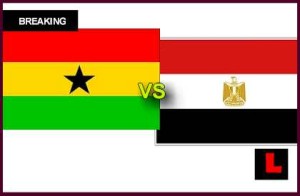 Africa Tops Sports reported Tuesday that Ghana FA President Kwesi Nyantakyi said he will hold FIFA responsible if anything happen to Black Stars during and after their World Cup Brazil 2014 playoffs' second leg tie against Egypt.
Nyantakyi added that, the unrest situations in Egypt, still poses threat to the security concerns and believes the game could have been moved to a new venue.
But Egyptian authorities, led by Sports Minister Taher Abou-Zeid, have repeatedly insisted that security will be at a high level at the military-run Air Defense Stadium.
However Ghana's Sports Minister has requested a meeting with FIFA officials in Zurich over the safety of the Black Stars and fans that will be travelling to the Egyptian capital on 19 November.
Egypt are considering Dubai and Morocco as alternative venue for the meeting.