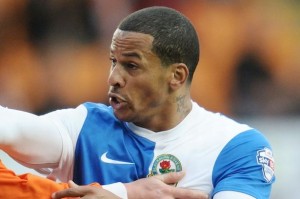 Blackburn striker DJ Campbell and Oldham midfielder Cristian Montano were among six people arrested following new spot-fixing allegations in football.
The National Crime Agency is examining evidence provided by the Sun on Sunday, who filmed former Portsmouth defender Sam Sodje claiming he received £70,000 for getting himself sent off in a League One fixture last season.
Campbell, Montano and Sodje have been released on bail along with Sodje's brothers Akpo – who plays for Tranmere – and Steve, who is a businessman.
A sixth man arrested, Tranmere defender Ian Goodison, was released on bail later, while Montano has been suspended without pay by Oldham.
Campbell incurred a yellow card in the Championship clash against Ipswich last week – an incident which is believed to be at the centre of police enquiries.
Montano was filmed claiming that he agreed to get himself booked in return for cash, although he failed to incur a yellow card in the fixture against Wolves in October.
A Blackburn statement read: "Following reports in the national media, Blackburn Rovers can confirm that striker DJ Campbell has been arrested. The club will be making no further comment on what is now an ongoing legal matter."