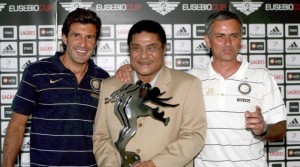 Africa Top Sports reported earlier on the sad death of Portugal legend Eusebio who just passed away Sunday after suffering a cardiac arrest. The death of the 71-year-old world and Portuguese football legend triggered reaction from football super stars around the globe.
After the touching tribute of Real Madrid Star striker Cristiano Ronaldo, the latest to mourn the 1965 Ballon d'Or is the Portuguese notorious coach Jose Mourinho of Chelsea.
"He is one of the greatest figures of Portugal, a nobleman of our country. I think he is immortal. We all know what he could mean for football, especially for Portuguese football. I would not say I was inspired by him, but he was an important reference in his vision of football, its values, its principles, emotions and even after the end of his career. He leaves a great void, but I prefer to look at it from the perspective of immortality. On a completely different generation, Eusebio, if we try to draw a parallel with today's football, would be at the level of the best footballers. If he had 20 or 30 years now, he would have been a staggering man," the Special One sadly.