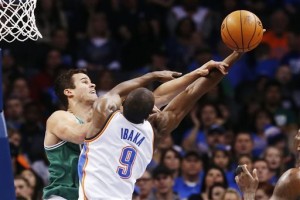 With Reggie Jackson as leader (27 points), the Thunder has dispatched the Celtics, 119-96 . The young leader of Oklahoma City, author of his career points record, perfectly compensated for the absence of Russell Westbrook. Scoring his first four shots, he offset the awkwardness at the start of Kevin Durant (2/8 on penalties) to allow the Thunder to inflict a 10-0 to the Greens of Boston and take of input the control of the game ( 19-7 ).
After winded start, the best trigger in the league improves his stats and ended the first half with 17 points ruining the efforts of Jordan Crawford (17 points) and Avery Bradley (19 points) for a partial victory of his side 66 – 56.
In the wake of Jackson, OKC shows percussive attack as Kendrick Perkins recalls memories of his former franchise with his best performance of the season (12 points, 6 rebounds). The second period is also controlled by the teammates of Kevin Durant (21 points, 8 assists, 7 rebounds and 3 steals in 27 minutes of play).
Dominator in the offensive phase (51 % success in shooting), Oklahoma has been also unbeatable in the defense where Serge Ibaka (17 points, 11 rebounds) got the upper hand on Jeff Green (19 points 1 rebound). Petty performance however for the other Africans of the Western conference leader Thabo Sefolosha in the top five, author 3 points to eighth midway, 3 rebounds in 24 minutes and Hasheem Thabeet (2 points, 2 rebounds), 4 minutes gaming outlet bench.
[youtube]http://www.youtube.com/watch?v=unoBLAqw-t4[/youtube]