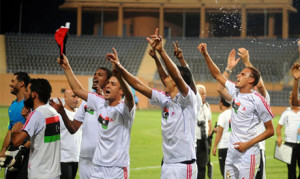 Libya are the leaders in Group C of the African Nations Championship 2014. This thanks to a brilliant 2-0 victory Monday over Ethiopia, yet billed one of the favorites of the competition.
Walya Antelopes got stunned as of the 3rd minute on a defensive error of Degu Debede. El Mutasem Abushnaf held the opportunity to open the scoring. Libya leads 1-0 at the break.
Back from the locker room, the Knights of the Mediterranean manage their lead before aggravating the scoring at the end of the game. Abdelsalam Omar, left free in the surface staggered Tassew.
Libyan Mohamed El Gadi was named "Man of the Match". Earlier, Ghana beat Congo in the same group.
Compositions
Libya: Nashnoush El LTRi, Fetori Salama, El Huni, Sabbou, Saleh El Gadi, Al Gritly, Abushnaf Al Ghanodi.
Ethiopia: Tassew Seyoum, Debede, Aynalem, Abebaw, Minyahile, Megersa Assefa, Adane, Fekadu, Oukri.