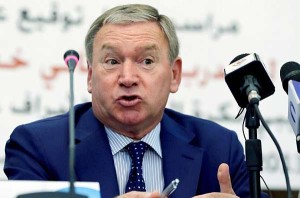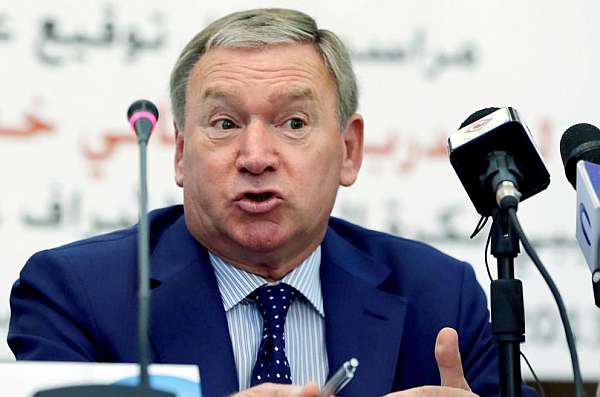 Last night, Javier Clemente Lázaro registered an additional line to his already impressive track record with Libya in CHAN 2014 after beating Ghana on penalty shootouts!
A historic victory that is also his!
The Spanish coach knows he has a mission to lead this generation at the highest level now! Quite a challenge!
He was born on 12 March 1950 in Barakaldo in Spain. A serious injury ended his playing career in 1971 while Clemente was not older than 21 years. Before that, he won the Spanish Cup in 1969 with Athletic Bilbao.
He then got converted as coach and he twice won the championship of Spain with Athletic Bilbao in 1983 and 1984. He remains the youngest coach to win La Liga. In 1988, he also led Espanyol to the UEFA Cup final.
Javier Clemente was coach of the Spanish national team between 1992 and 1998, and Serbia between 2006 and 2007. During the 2000-2001 season, he led Olympique de Marseille.
He won three times the Don Balón Award as best coach in La Liga.
He knows well the African football. August 17, 2010, he succeeded to Paul Le Guen as coach of the Indomitable Lions of Cameroon.
October 24, 2011, he was fired by the Cameroon Football Federation after failing in his mission to qualify the team for the finals of the African Cup of Nations 2012.
In September 2013, he concluded an "agreement in principle" with the president of the Libyan Football Federation (FLF) Anwar al- Tachani to coach the national team for two years from October 2013.
The rest we know, the first title last night.
Coaching career
1975-1976: Arenas Club de Getxo
1976-1978: CD Baskonia
1980-1981: Athletic Bilbao B
1981-1986: Athletic Bilbao
1986-1989: Espanyol
1989-1990: Atlético Madrid
1990-1991: Athletic Bilbao
1991-1992: Espanyol
1992-1998 : Spain
1998-1999 : Betis
1999-2000 : Real Sociedad
2000-2001 : Olympique de Marseille
2001-2002: CD Tenerife
2002-2004: Espanyol
2005-2006: Athletic Bilbao
2006-2007: Serbia
2008-2009: Real Murcia
April – May 2010: Real Valladolid
August 2010 – October 2011: Cameroon
February 2012-2012: Sporting de Gijón
October 2013 – Libya
Prize list
Player
Spanish Cup: 1969.
Coach
Spanish Championship: 1983 and 1984.
Spanish Cup: 1984.
Spanish Super Cup: 1984.
UEFA Cup finalist: 1988.
African Nations Championship of football 2014.
Individual Award
Don Price Balón as best coach in La Liga : 1983 , 1984 and 1987.