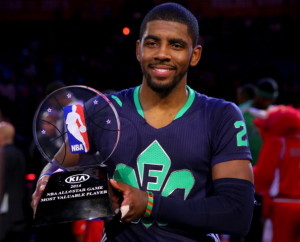 The Eastern Conference won the 63rd All Star Game NBA dominating the West 163-155.
Triple holder of the title, the Western Conference in the wake including Blake Griffin (38 points) put into orbit most often by his accomplice Chris Paul (11 points, 13 assists off the bench ) prints the tempo of the match and gala returns to the break with 13 points ahead ( 76-89 ). In the second half, the leader of Cavs, Kyrie Irving dons the costume of MVP that was thought to be devoted to LeBron James (22 points) or Kevin Durant (38 pts, 10 rebounds, 6 assists) and pushed the East ahead.
Uncle Drew scored 24 of his 31 units in the second period and distributes 14 caviars to his teammates. His one night teammate Carmelo Anthony (30 points) marks by his way the evening with a record winning shot in an All Star Game 8. Tony Parker (4 points in 11 minutes) and his partners in the West leave the trophy to the conference of Joakim Noah (8 pts, 5 rebounds, 5 assists) which wins its 37th title.
[youtube]http://www.youtube.com/watch?v=gcxxHHBdWN0[/youtube]