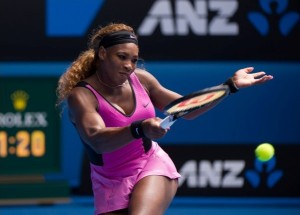 Serena Williams qualified for the semi -finals of the WTA Dubai at the expense of Jelena Jankovic. The Serbian, 7th player in the world has undergone the determination of the American winner of two identical sets, 6/2, 6/2.
Unbeaten in their face to face since May 2010, the World No. 1 leads 3 games to 0 after 10 minutes and a break on the first service of the seeded No. 5. Jelena Jankovic scored her first point and took in stride the service of her opponent [3-2]. But she died thereafter failing to register her third point until 31 minutes in the second round. After they remained mistresses of their first two services in the set [2 games all ] Serena Williams proved supremacy and validated her qualification for the semifinals after 1 hour 15 minutes.
She will play for a place in the final the winner of the quarter between Alizé Cornet and Carla Suarez Navarro .
Remember that her sister Venus Williams also qualified for the semifinals.