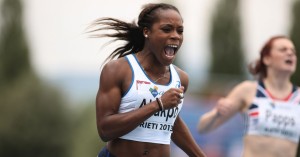 New title of champion of France for Stella Akakpo. The French sprinter of Togolese origin has emerged Saturday in Bordeaux in the final of 60 m at the championships of France Elite indoors.
The European junior champion last year set a time of 30 7s (national record in the distance). Akakpo anticipated Eloyse Lesueur who arrived in 7 "38. Solène Compper completed the podium with a time of 7 "46!
Voted "Best Female Hope in 2013," Akakpo had announced colors in the semifinal, equaling his best French performance of the season with 7 "34.