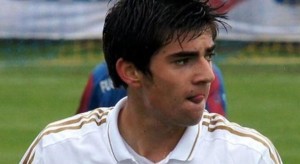 This is the information that panics the web this morning. A Zidane in the France team. Enzo , son of the former captain of the Blues has been convened for the first time in U19. No ifficial official matches in the menu but medical tests. So, Enzo Zidane is still available for national selection A.
It is this opportunity that the FAF ( Algerian Football Federation) wants to seize to naturalize him. Mohamed Raouraoua, the president of the FAF dreams to see the midfielder of the reserve team of Real Madrid in the colors of Fennec.
But at the side of France, it is ensured that the son of Zizou (Algerian origin) has made his choice. "The player has decided to wear the blue shirt, confirms Willy Sagnol, the manager of the national youth teams reported by Parisien. He can still change in the future but his current desire is to play for the team of France."
Enzo Zidane can also choose to play for Spain where he was born.