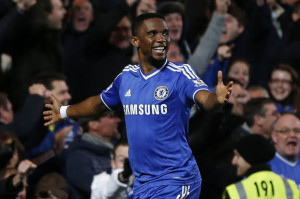 We know, and as Africa Top Sports.com reported, nothing goes currently goes well between José Mourinho and striker Samuel Eto'o, 32.
Off camera for Canal Plus, the Portuguese coach of Chelsea talked about his striker Samuel Eto'o: "The problem with Chelsea is that I lack a scorer. I have an Eto'o, but he is 32 years old … maybe 35, who knows? "
The balance of Cameroon is yet great with 6 goals in 16 games, including 12 as a starter in Premiership. And 2 achievements in 5 games of the Champions League, including three as a starter. Statistics better than other Chelsea strikers namely Fernando Torres and Demba Ba.
Eto'o does not support this assessment despite being too often a substitute "I do not like the bench and he knows, José Mourinho. Personally I prefer Mallorca. My son puts pressure on me that I should go there to finish my career, because he is there. I signed with Chelsea for the whole season and I'll try to enjoy it, and later I will go to Mallorca."
José Mourino did not seem to get more formalized than that: "We'll see what he wants at the end of the season. Maybe he wants to return to Mallorca, as he promised his son. Maybe he wants to stay with us or go and finish his career at Inter. He does not require trophies, he does not need money,".
A few days ago, Eto'o had said: "I have nothing to prove, I'm Samuel Eto'o!"