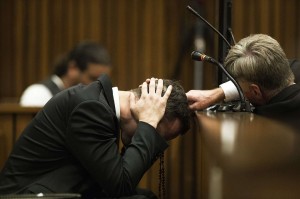 No way to broadcast live the testimony of physician Gert Saayman who was to report on the autopsy of Reeva Steenkamp, shot in February 2013 by the South African Paralympian Oscar Pistorius. This was decided by the judge Monday. During the hearing, the athlete could not help vomiting.
Testimony that causes vomiting
Details on autopsy of Reeva Steenkamp, whose results the medical examiner has compiled Monday during the sixth day of trial hearing of Pistorius, were particularly challenging to the point that the athlete started vomiting.
Prostrate in the dock, dabbing his eyes with a handkerchief, the young man of 27 years has got chills, crossing his hands behind his neck, clutching his head in his elbows, before vomiting while the pathologist had described the condition of the skull of his girlfriend Reeva Steenkamp was shattered by a bullet.
Forbidden to transmit the report
"There will be no broadcast (audio and video) directly. (…) This also applies to Twitter ", has decided judge Thokozile Masipa, responding to the specific request of the expert at the trial of the athlete. And for good reasons.
Indeed, while the report continued, many journalists present at the hearing could see him sobbing, shoulders slumped, panting. His hiccups were so strong that the microphone in front of Pistorius had to be removed so that we less noise.