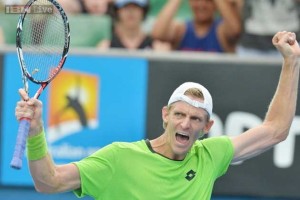 Kevin Anderson held his first victory over Stanislas Wawrinka. The South African has achieved a feat last night as he eliminated the No. 3 worldwide in knockout stage of Masters 1000 Indian Wells in 3 sets, 7/6 [7-1], 4/6, 6/1.
This is the first defeat this year on the circuit for the Swiss star. "Physically, I was neutral, I did not put pressure mentally, I was slow, in short it was a bad day," said the recent winner of the Australian Grand Slam.
Anderson in the quarterfinals, World 18th, will face Roger Federer winner of Tommy Haas in straight sets 6/4, 6/4.
The Swiss (8th ATP) and Novak Djokovic are the only members of the ATP Top 10 still competing in the California tournament.