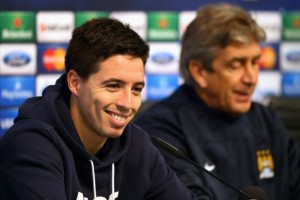 Beaten in the first leg by FC Barcelona, Manchester City should achieve a startling feat at Camp Nou in order to continue their journey in the Champions League. But the miracle did not happen for Citizens. In a generally controlled match, the Blaugrana have secured their ticket to the quarterfinals of the competition with a victory in the second leg against the Skyblues (2-1).
Following the elimination of his team, the French midfielder Samir Nasri of Citizens nevertheless remains positive over the double confrontation.
"It seems to me that Barcelona worried us a bit, they lost last weekend and their confidence was not total. Our only regret is that we did not play the first game like we did tonight (yesterday). This defeat will teach us. We see that we can compete with anyone," he confided in l' Equipe.