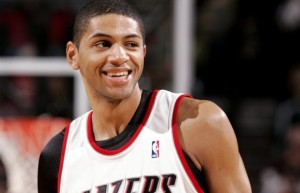 Nicolas Batum was tired of following the NBA play- offs on TV. This season, the Franco- Cameroonian winger had made the playoffs his main objective. This is now done. Portland, with a win last night against New Orleans, 100-94, is sure to play this year's playoffs.
"I'm too impatient to play. The next two weeks will be a little boring. We already want to be," said Batman.
For this 50th victory of the season for Trail Blazers, Batum was full again on the stat line with 16 points, 12 rebounds, 4 assists, 1 steal and 1 cons. Damian Lillard has cracked 20 points, 6 rebounds and 5 assists. LaMarcus Aldridge with a double -double (25 points, 18 rebounds) won his duel against the leader of Pelicans Anthony Davis (15 points, 5 rebounds). Substitute, Al-Farouq Aminu with 2/4 shooting, did the job in the paint with 9 rebounds including 7 defensive successes. 13 points and 7 rebounds for Alexis Ajinça .
Under the lead of a huge Stephen Curry (33 points [ to 12/18 2-point and 5/10 from behind the arc ] , 16 assists), Golden State, 6th in the Western Conference has dominated Utah Jazz 130-102, Andre Iguodala scored 11 points. Klay Thompson finished at the top of the scoring with 33 units.
The grain of sand in the Pacers machine is being removed in vain. Indiana bowed for the fifth time in six games. Teammates of Paul George (18 points ) were defeated by Atlanta, 107-88. Symbol of this delicate period, Roy Hibbert (0/ 5 shooting) is obliged to follow the game from the bench after 9 minutes resulted in a zero on the line. Ian Mahinmi yet made a blackened copy of 10 points off the bench. The Hawks, who have not played with their rookie Dennis Schröder, cling to the 8th rank in the East with 34 wins and 42 defeats. They also benefit from the defeat of the New Knicks ( 33v , 45d ) against the Miami Heat led by LeBron James (38 points).
Highlights of the match Portland -New Orleans
[youtube]http://www.youtube.com/watch?v=84z0gHY3Rbk[/youtube]
The other results of the night
Miami -New York: 102-91
Phoenix– Oklahoma City : 122-115
LA Clippers LA Lakers : 120-97
Sacramento- Dallas 91-93
Houston – Denver : 130-125
San Antonio – Memphis 112-92