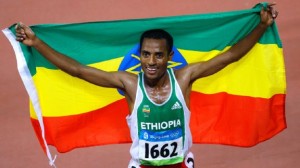 Winner of the Paris marathon Sunday in his first race at this distance, Kenenisa Bekele set a new record for the event (2h05'04 "). The Ethiopian has also estimated that the world record was "a possibility".
"It's a possibility if I prepare further. For this marathon, I finally had three months of training and it is not enough," he said after the race.
"After 5,000 and 10,000, I should train differently and longer to acquire this change of pace. I'm sure for my second marathon I will do better and maybe even be able to tackle the world record." he added confidently.