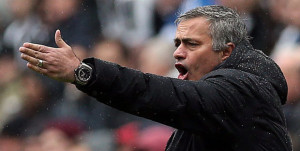 On the eve of an explosive return match tomorrow against PSG in the quarterfinals of the Champions League, an explosive book comes out on José Mourinho.
The book is entitled: "The Special One – The Dark Side of Jose Mourinho." It is written by Diego Torres.
The Times published a few pages of this book that make the buzz yet.
Especially about the aftermath of a match between Real Madrid and FC Barcelona, 16 April 2011. That day, Real Madrid was obliged to win against Barcelona in La Liga to revive. But it sadly resulted in a draw.
And José Mourinho insulted his players:
"You are traitors. I asked you not to tell anyone about the team aligned but you betrayed me. This shows that you're not on my side. You're sons of bitches. The only friend I have in this locker room is Granero … and himself, I do not know if I should trust him. You abandoned me. You are the most unfair team that has been given to me to lead. You are but sons of bitches."
"If I am in Vietnam and I see you laugh at one of your colleagues, I'll take a gun and kill you. Now it is up to you to find one that has mocked you."
The rest of the story promises to be forthcoming!