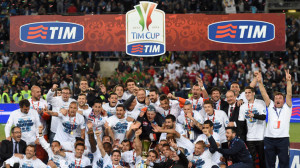 Joy and horror!
Joy: Naples won the Coppa Italia (Italian Cup) against Fiorentina (3-1).
The horror: a Neapolitan tifosi was shot and seriously injured on the sidelines of the meeting. His condition is still considered extremely worrying!
The match has even started with three quarters of an hour late. The north bend where Neapolitans gathered was unleashed after the announcement of the injury.
The mediation of Marek Hamsik Neapolitan captain was very helpful in restoring "calm".
Naples has emerged thanks to a brace from Lorenzo Badge (11, 16) and an ultimate counter-attack against of Dries Mertens (90 +3).
Fiorentina had insufficiently reduced the score by Juan Manuel Vargas (27).
The goals
[youtube]https://www.youtube.com/watch?v=a7CSa5YUkNU[/youtube]