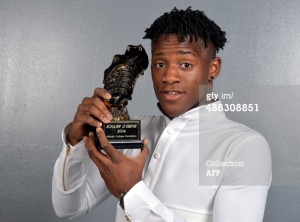 Michy Batshuayi can be very happy after an almost full season. Still waiting to win the title of Belgian championship with Standard, the Belgian Congolese-born striker has been honored. The current top scorer in the Jupiler Pro League has been bestowed the Ebony Shoe 2014 Award for the best African footballer of African descent playing in Belgium.
"This is the first time I win a trophy. It's good. It is a great honor. I can never managed to win this award without my teammates. I thank them and the coach," explained the Belgian international hope in the micro of RTBF. The World Cup? I try not to think too much; otherwise I could not play so released. There would be too many thoughts in my little head. Playing a World Cup is a dream, but Belgium has so far very good players, as in attack. If I am not selected, this is a message to tell me that I still have to work harder. I only have 20 years, I can still get better."
With 21 goals this season, Standard striker won the vote ahead of the Tunisian striker Lokeren Hamdi Harbaoui and teammate Paul -José Mpoku. "I 'm not disappointed because Michy deserves this distinction," responded the Carthage Eagles striker Hamdi Harbaoui. "He played a fantastic season and won deservedly." For his part, Paul -José Mpoku also think his teammate Batshuayi Michy deserves this award. "This is a reward for the season. I am pleased he won it. I'm not disappointed, I would especially like to win a collective trophy," said the young Belgian-Congolese.
Michy Batshuayi succeeds the Senegalese Mbaye Leye in charts. The Belgian of Ghanaian origin of FC Bruges Vadis Odjidja – Ofoe finished fourth while the Nigerian Imoh Ezekiel (Standard) ranks fifth.