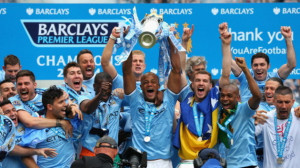 It's done! Manchester City won their second coronation of England over three years. The Mancunian club had put a hand on the trophy this week after a 4-0 victory at Aston Villa combined with missteps of Liverpool at Crystal Palace, have confirmed their lead Sunday against West ham.
Citizens were sent in the title dream in the first period by Samir Nasri who has shaken the cages of Adrian by a burning missile. At the other side at Anfield, Liverpool was led by a goal against Newcastle on own-goal of Skrtel. Things were so difficult for the Reds who had to win and hope for a City defeat.
In the second half, City added a second goal by Kompany and puts an end to the hopes of their competitors. Final score 2-0. For its part, Liverpool heal their last game of the season and equalized then beat Magpies 2-1.
This is the 4th league title in the history of Manchester City in England. They have achieved a brace as this season they have already lifted the Carling Cup this season (photo).
The joy of Citizens!