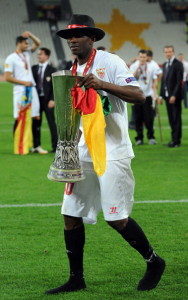 Stéphane Mbia and Sevilla won the Europa League Wednesday after the session of penalty shootouts (4-2) against the Portuguese of Benfica.
At the end of the meeting in addition to the extra time, both teams were unable to decide (0-0).
A great reward for the Indomitable Lion before leaving for the World Cup.
The former Marseille player has been the savior of his team in the semi-final return by registering a winning goal in extra time against FC Valencia. In the final, he managed his penalty shot.
And three for Sevilla!
The Spanish club has never lost a final of the Europa League. For its third European final, the Andalusian club has managed to offer a third medal by winning the competition, having won the UEFA Cup in 2006 and 2007.
A total success that puts Sevilla among the clubs who have won the trophy more often. It is with Juventus, Inter and Liverpool, one of four clubs to have won the C3 three times.