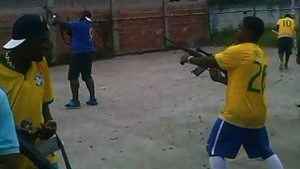 Yes, these images are amazing but unfortunately true!
The tension is always very keen even 29 days ahead of World Cup kickoff in Brazil.
A few days ago, a Brazilian supporter had died in a stadium!
This time it is the bullets that were fired!
Brazilian supporters clashed with Kalashnikovs during a game of amateur football in the suburbs of Rio de Janeiro.
A goal on penalty triggered this incredible reaction of violence by "supporters" present behind the goal shooting with AK-47!
The horror lasted more than 30 seconds!
Here are the pictures! The world is in shock!
One recalls the statement by Michel Platini: "Brazil, make an effort for a month, calm down! Pay tribute to this beautiful World Cup. We went to Brazil to make them happy. I said the last time we went to Brazil, it is as if Muslims were in Mecca, Christians in Rome and the Jews in Jerusalem. That's exactly right to go to the World Cup in Brazil. That's why everyone is happy to go to the World Cup in Brazil. Well Brazilians, they must put themselves in the idea of receiving tourists from around the world and try hard to make a truce for a month. No confectioners, but they make a truce. We must tell the Brazilians that they have the World Cup and they are there to show the beauty of their country and their passion for football. If they can wait at least a month before making social outbursts, it would be good for the whole of Brazil and the football world."
Also discover the folder on violence in Brazil by Catch Brasil.com.
[youtube]https://www.youtube.com/watch?v=qecm_z4A3L4[/youtube]