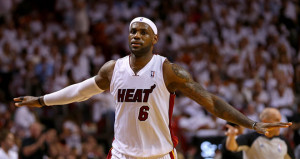 Miami will play again the final in the Eastern Conference. Despite a huge Joe Johnson (34 points to 15/23, 7 rebounds and 3 assists), Brooklyn will not be entitled to a Game 6. Nets have surrendered that night, 96-94.
Los Tres Amigos double champion, backed by a precious Ray Allen (13 points off the bench), to make the job by showering in the last corner of the Game 5 the men of Jason Kidd. To counter the New Yorker, Dwyane Wade (12 pts in the 1st QT and 20 at the break) assumes his responsibilities, but remained too lonely in the first period. Heat is led 42-49 at the break after a 0-8.
In the second period, there is a race between the two franchises. Every effort of LeBron James (29 points including 15/17 shooting, 9 rebounds, 5 assists) and co to return to the score, the Nets in the wake of J. Johnson and Paul Pierce (19 points) stretched a layer to maintain an 8 points advance at less than 5 minutes of the end (91-83). Floridians lock their defense and inflicted a fatal 12-0 to Brooklyn who become the hunter after shot by Ray Allen at 32 seconds of the buzzer. King James steals a last ball to Joe Johnson, Miami imposed itself on 96-94 and ends the series of win by 4 to 1, thus validating its fourth consecutive qualification for the final in the Eastern Conference.
"It's always been like that for us. It is never easy, nothing is ever simple," says LeBron James who will play a 6th individual Conference final (2007 and 2009 with Cleveland). D-Wade finished the game with 28 points and Chris Bosh caught fire at long distance with 16 points including a 4/6 3-pointers.
[youtube]https://www.youtube.com/watch?v=bADMtELcOpA[/youtube]