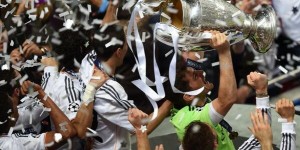 What a final! what a game, what suspense! After the end of the evening, Real Madrid have won their 10th Champions League trophy to see Atletico Madrid players in tears on Saturday evening in Lisbon, Portugal (4-1). With a festival of goals especially in extra time.
But it was hard. Real Madrid have long struggled against a solid team of Ateltico who however got shortened following the 9th minute-exit on injury of Diego Costa. But that did not prevent the Colchoneros from opening the scoring in the 36th by Diego Godin who enjoyed a hazardous output of Casillas. 1-0 at halftime!
Ramos again!
After the break, Real accelerate pressure in search of the equalizer. It was an attack-defense system which saw Gareth Bale very awkward. Finally hope got recovered as Ramos equalized by a header. Hero in the semifinals, the Spanish defender gets the equalizer (93rd). Now the extension!
[youtube]https://www.youtube.com/watch?v=Vi9Yd2wZMbs[/youtube]
After a first half unsustainable, Gareth Bale kills Atletico hopes after taking over a Di Maria header to make it 2-1 in the 110th. Atletico is sounded. Real now have the ball and the psychological edge. Marcelo on a solo rushes and sends a shot in through the hands of Courtois (118th).
Finally, Ronaldo fouled in the surface transforms a penalty for the fourth goal of the match. The Portuguese scored his 17th goal of the season and won his second European title after that of Manchester United.