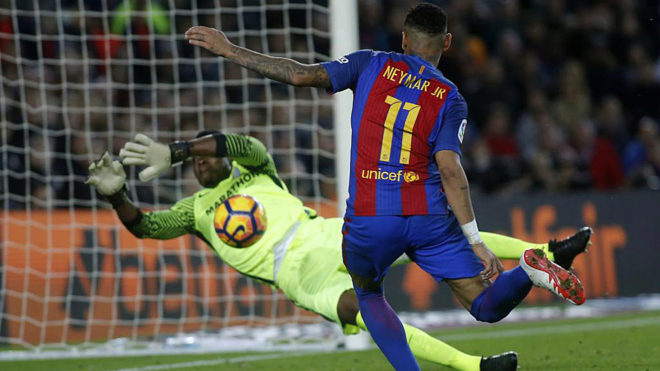 He was re-named "The wall", others nicknamed him "Barcelona's bogeyman". He said he "like to be Barcelona's ogre". Yes, Cameroonian legendary goalkeeper Carlos Kameni appeared to be the toughest opponent of Blaugrana during his spell at La Liga. Re-live some of his craziest saves against Lionel Messi's club.
From 2004 at Espanyol Barcelona to 2017 at Malaga, Carlos Kameni most of the time disgusted La Liga giants Barcelona.
OCTOBER 16, 2004 (2004/05 SEASON): BARCELONA 0 vs ESPANYOL 0 (LIGA MATCHWEEK 7)
Newly arrived in Spanish top-flight, Carlos Kameni delivered a display worthy of a world class goalkeeper against Barcelona. Despite Blaugrana's offensive armada composed by Lionel Messi and the magician Ronaldinho. That day, Kameni completed 7 miracle parades to help his team secure a 0-0 draw against Franck Riejkaad team.
"In fact, it is one of the moments I remember most from the matches against Barcelona" Kameni told Marca three years ago.
NOVEMBER 19, 2016 (2016/17 SEASON) : BARCELONA 0 vs MALAGA 0, ANOTHER KAMENI SHOW (LA LIGA MATCHDAY 12)
Luis Enrique's Barcelona had to play without Lionel Messi and Luis Suarez. So André Gomes and Gerard Piqué were lined up alongside Brazilian super star Neymar. But Carlos Kameni was there to deny all attempts of Camp Nou side.
He saved his team from conceeding a goal by stopping Gerard Piqué, André Gomes and Rafinha shots in an incredible way. But his save on a Neymar header was absolutley masterful. That day he achieved five superb saves to help in securing a 0-0 draw.
"The truth is that it makes me very happy that people remember me for those games, for having had good performances against Barcelona, for keeping clean sheets, and for being their ogre…And I know that the clashes against Barcelona, and many of them at the Camp Nou, have defined my career." he said to Marca.
In addition, the Cameroonian shot-stopper an impressive statistic of 8 clean sheets in 24 appearances against Barcelona. A very huge achievement in regards with the avalanche of quality strikers the Catalan club has had.
It's worth mentioning that in all his 350 (229 with Espanyol and 121 with Malaga) La Liga games, he won just one title. It was in 2006 with Espanyol Barcelona (Copa Del Rey). He moved to Turkish side Fenerbaçhe in 2017 and leave the club in 2019.
With indomitable lions, he was runner-up of 2008 AFCON as Cameroon lost the final against Egypt.