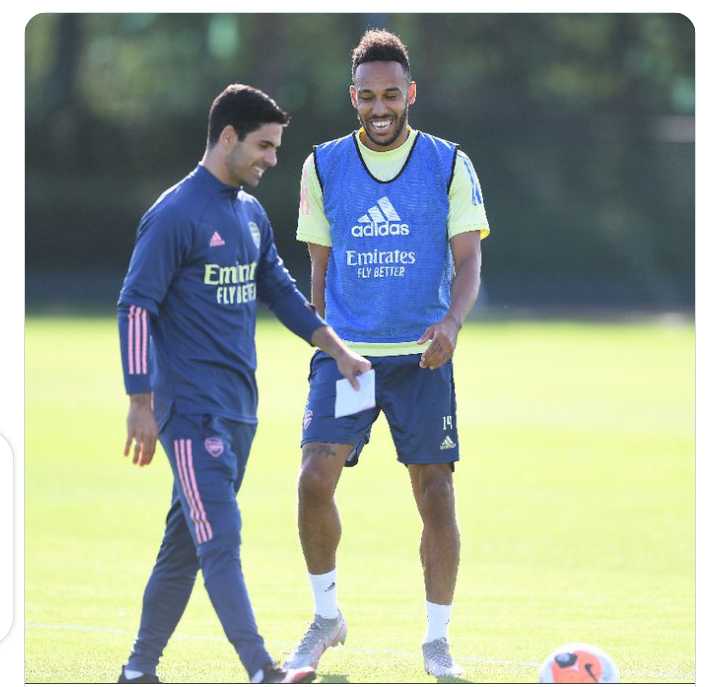 Arsenal manager Mikel Arteta has told the club supporters to remain calm on the transfer speculation of Pierre-Emerick Aubameyang.
There has been speculations that the Gunners captain wants to leave the club.
But Artetat who is now Arsenal team manager in his pre-match interview ahead of the league opener against Fulham has doused the tension.
The former Arsenal midfielder spoke about his team readiness for the game, his opponent as well as speculation on Aubameyang departure.
Responding to the most pressing question if the striker will remain with the FA Cup winners Arteta affirmed bus confidence.
 
"I can say that I am even more confident than I was at the end of last season when you asked me the same question 10 times!.

"I am very optimistic. I think [those fans who are worried] can be pretty relaxed!"
The Spaniard reacted to his new position as the first team manager, he said his dream is not the position but to make the club more successful.
"My title has changed a little bit but I'm just here to try and do my job as well as possible. 
"It is always nice to be recognised from the club for the job that I try to do but I just want to help the club to do the right things. 
"When I have to be involved, great. When I work in any area, great.
" I just want to make this club more successful in this country as quickly as possible and in a sustainable way.
" That's my ambition. It's our ambition and we have to do it together.
However, the manager expressed contentment on the club summer transfer window and the team development.
Arsenal recently added Willian and Gabriel to their squad with the former crossing from Chelsea.
"Well, it's been a very strange mini-pre-season with a lot of external factors that are difficult to control. 
"I think today is the first day that we have the full squad training together for pre-season. 
"Just a day before we play the first game, but we have tried to put in the work that we needed, obviously without some key players for different reasons. 
"Towards the market and our squad, obviously, we bought Willian and Gabriel. 
"They're two really good recruitments in my opinion and two players that are going to improve our squad, but it's been a very complicated market so far."
With the London derby against Fulham as the curtain raiser for the 2020/2021 league, Arteta predict that the game will be tough.
"I think the team is a good reflection of the coach. 
"He's a very thorough person with a very committed team with a very clear way of playing. 
"He's done a fantastic job at Fulham, the way they managed to get promoted last season was really good. 
"We have been watching them, we know it's a very typical stadium, really tight. 
"It will be a tough match."
Arsenal will be aiming to build on their recent FA Cup and Community Shield victory when they take on Fulham at the Craven Cottage.