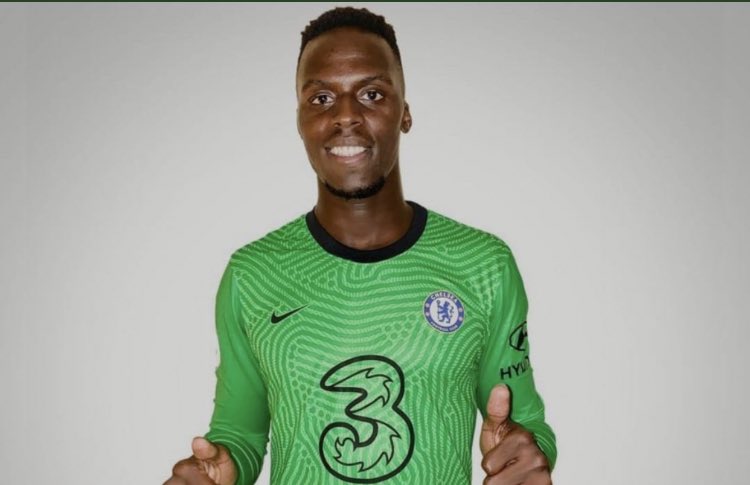 [][/]
Senegalese goalkeeper Edouard Mendy has been confirmed by Frank Lampard to be available for Chelsea Carabao Cup match against Tottenham on Tuesday.
Mendy joined Chelsea last week Thursday but was not included in Chelsea squad in the 3-3 draw against West Brom at the Hawthorns on Saturday.
Lampard at his pre-match conference ahead of Tuesday's game confirmed that the former Rennes stopper will be in contention for the game.
Lampard told www.chelseafc.com that Mendy and Chilwell are fit to play.
"Mendy and Chilwell are in the squad for tomorrow.
"They're fit and we will see whether they start or not.
Lampard was impressed with how Mendy settled down quickly and ready to play in England.
"The early signs and the interactions as a man and also on the training pitch have been very positive. 
"He's settled in very well in those few days and we've made him very welcome.
"It's competition, we know that. 
"He's a good goalkeeper, we know a lot about him, and we will see how we go."
He also confirmed that Hakim Ziyech and Christian Pulisic are near comeback.
"Ziyech and Pulisic are not far away. 
"They are still in their recovery stage so it's too early for them both."
Commenting on Tuesday game, the former Chelsea midfielder sympathised with Leyton Orient and also talked about the busy schedule this season.
Tottenham didn't kick the ball before reaching the fourth round of the Carabao Cup as half of Leyton Orient players tested positive to COVID-19.
"I have absolutely sympathy for Leyton Orient. 
"It's an area I know very well. 
"I really feel sympathetic for them, but unfortunately in the time we're at, there's nowhere to put that game for us if it was postponed.
"As soon as we come back from international duty we go league, Champions League, league, Champions League and so on. 
"It's very unfortunate for Leyton Orient. I don't know the details but let's hope they can be compensated in some way to make up for it."
Reacting to the tight schedule this season and his opponent, Lampard said it will be a tough game.
"I know that, and it's a busy time for Tottenham because of the Europa League. It's a busy time for us all. 
"When I analyse Tottenham and know they squad they have, and analyse a team that didn't play 90 minutes yesterday, they have a fantastic squad. 
"Any squad Jose puts out will be very strong.
"For teams like ourselves and Tottenham that are challenging for top four and Champions League, 
then the Carabao Cup does have its place, but we will certainly respect it and every tournament we go in we will try and win."