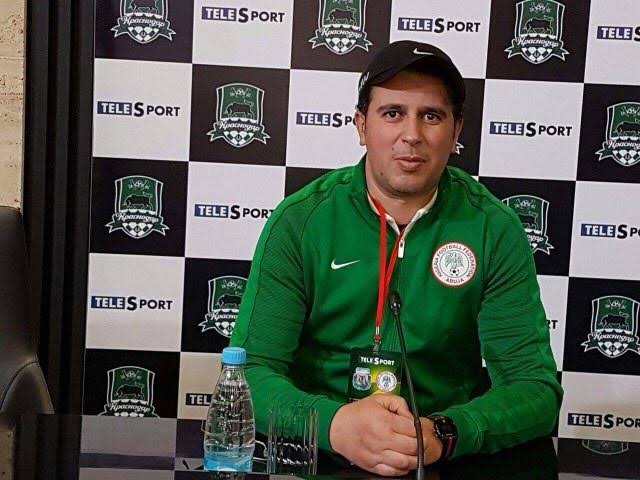 Super Eagles assistant coach Nabil Trabelsi has revealed that their game against Tunisia will be different from what they played last with Algeria.
Trabelsi is Gernot Rohr's a video analyst and UEFA A licensed coach.
The Tunisian while speaking in an interview with Ettachkila.com, ahead of the match said the Super Eagles will do everything to win the game.
Both teams will clash in an international friendly match at the Jacques Lemans Arena in Sankt Veit an der Glan on Tuesday.
Nigeria Super Eagles defeated Tunisia 1-0 on the third place game of the 2019 AFCON in Egypt.
A feat Trablesi is confident will repeat itself again as the tewmmlook to bounce from their last week 1-0 loss to Algeria in Austria.
"First of all, I think that the context will be completely different from our last confrontation in Egypt.
"It's a friendly game and both teams will be looking to develop a good game with technical and fast football. 
"We know Tunisia very well and we will do everything to win."
The Tunsian also talked about his desire to achieve more feats with the Super Eagles then look to become a head coach in the coming days.
"I admit that this is something that makes me think, but in any case, it will not be for now," he said when asked about aspiring to become a head coach.
"I want to play a second World Cup with Nigeria. 
"Our goal remains to go to Qatar in 2022, and why not, repeat the exploits of 2014 or 1998 (Second Round feats in 1994 ,1998 and 2014). 
"I will have the opportunity thereafter, to take a step forward and take charge of a good team as a head coach."
He talked about how his relationship with Rohr who took over from Sunday Oliseh in 2016 started.
"It was during the CAN 2013 in South Africa. 
" I was on a scouting mission for my club [Freiburg] and that's where I got to know Gernot," said Trabelsi who assisted George Leekens in 2014 when the Belgian was the head coach of Carthage Eagles.
"The understanding went well between us because we share a lot of points in common: 
"We have a common friend in the person Volcker Finke and both worked at Etoile (Gernot Rohr had coached the flagship club of the Sahel between 2008 and 2009). 
"It is only natural that I began in 2015 my collaboration with him as assistant coach of the Burkina Faso team (for a year) before he resigned."
"Yes, it was in 2016 that my adventure in Nigeria began. 
"I am lucky to work with great players from the African continent in a country that breathes football.
"My arrival in Nigeria, I owe it a lot to Gernot Rohr, who believed in me and who imposed me in his staff. 
"I am very proud of my journey, we managed to qualify for the 2018 World Cup in Russia where we played extraordinary matches against world stars like Lionel Messi or Luka Modric. 
"One year later, we play CAN 2019 in Egypt where we finish on the podium by beating Tunisia in the small final. 
"It is a very enriching experience for me to coach the Super Eagles , both personally and professionally."