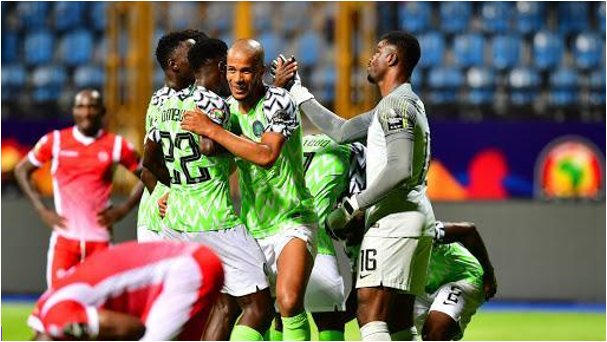 World Cup 2022 Qualifying
Nigeria international football team may have failed to qualify for the 2017 AFCON. Still, the arrival of German coach Gernot Rohr has brought a fresh start to the African nations competitive journey. And although the World Cup is not taking place until 2022, Nigeria's African qualification for Qatar 2022 is just a couple of months away.
Nigeria was drawn into Group C alongside Liberia, Central African Republic, and Cape Verde for the Second Round of the African World Cup 20222 qualifying stages. The draw took place in Egypt earlier this year and 'The Super Eagles' should be confident in their chances at qualification.
Proud and honoured to represent a big football nation like Nigeria.
Proud to be a Super Eagle 🇳🇬🦅 #SoarSuperEagles #EndSARS pic.twitter.com/13pRinwnOA

— Cyriel Dessers (@CyrielDessers) October 14, 2020
Nigeria has failed to qualify for the tournament on just one occasion in 2006 since their debut into the tournament back in 1994. They managed to reach the Round of 16 in 1994, 1998, and 2014 but were sadly held to three points and group elimination at the Russian World Cup in 2018.
Nigeria to qualify for the 2022 World Cup are favoured from their group across various betting sites and their experienced coach holds the same promise:
Newly Appointed Gernot Rohr
"We have three opponents in the group and have to respect all of them. Liberia is a team that can't be underestimated as we saw when we beat them in a friendly. As for Cape Verde, they have players of Portuguese and Brazilian origin, and they can beat any team. The central African Republic is an unknown quantity for us, which makes it more difficult. I think the group is tough, but we believe in our capabilities. Given that we qualified from the group of death for Russia 2018, we're confident we can make it this time as well.", Gernot Rohr told FIFA representatives.
With confidence must follow a hint of caution, no matter how confident Rohr and his squad may seem its clear the German coach will still respect the opposition:
"I think the group is tough, but we believe in our capabilities. Given that we qualified from the group of death for Russia 2018, we're confident we can make it this time as well".
According to him, "We'll take it one step at a time. First, we need to qualify, and if we do that, we'll review our group at the finals. We'll try to progress to the knockout stage, which we got very close to two years ago. We have to work hard to achieve that" he added.
Rohr was signed in 2016 when Nigeria failed to qualify for the CAF Africa Cup of Nations in back to back attempts (2015 and 2017). West Africa's top team went on to be eligible for the 2018 FIFA World Cup in Russia under this new appointment and also finished third place at the CAF African Cup of Nations in Egypt 2019.
Since then, Rohr has signed a new deal with the Nigerian Football Federation that will have the coach sitting as the team's manager until the end of Qatar 2022, and he expects to take the African nation beyond the Round of 16.
Nigeria in 2020
In the meantime, Rohr is practicing his new tactical strategies through a handful of warmup games in Austria.
Last week saw 'The Super Eagles' come up short against Algeria 1-0 in their first travelling fixture, although in defeat the public display of performance was welcomed for Gernot Rohr's squad. Next up came Tunisia this week, who were notably on a four-game win streak until Rohr's men were able to halt them to a 1-1 draw.
Key players were absent in the 1-0 loss to Algeria, while the display against Tunisia was proof of what the African outfit is capable of. Tunisia is the second-ranked African team to date, so claiming the 1-1 draw can be viewed as an achievement for the German tactician. Leicester City striker ended a three-year drought that Tunisia has held over their African counterparts, Kelechi Iheanacho could have made it two goals. Still, a missed penalty left the clash in a 1-1 draw, but more importantly – the first result Nigeria had taken away from Tunisia in many years.