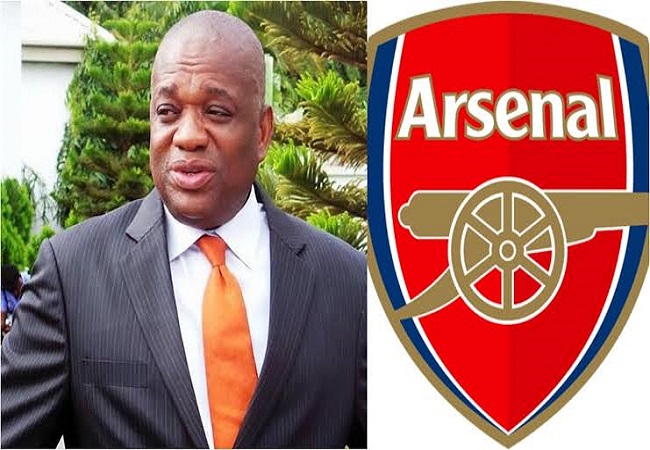 Orji Uzor Kalu is a Nigerian Senator. He is also a wealthy oil and media businessman. And of his comfortable position, he has publicly manifested his intention to purchase a 35% stake in Arsenal Football Club.
Kalu is reportedly empowered following domestic success through the funding of Nigeria-based side Enyimba International FC. He disclosed his intent via a statement on his official Facebook page in quotes through his newspaper, The Sun Nigeria.
"Our success with Enyimba between 2000-2007 has continuously increased my passion for football." The Senator wrote on Facebook.
"As the Pillar of sports in Africa, I am considering an investment in football. And I will buy a 35 percent stake in Arsenal FC. Our target is to lift the Champions League and Premier League back to back as we did with Enyimba." He concluded.
It is unknown as to whether there is a formal bid or to be in the coming days. But there are clues that Kalu may be in a position to finance a deal for a significant stake in the north London club.
He appears to be involved in the lucrative Nigerian oil trade. Which was valued as being worth an estimated $32.6 billion to Nigeria in 2018 when all income sources included. Kalu's SLOK company describes itself as 'the leading indigenous player in the upstream sector of Nigeria's oil and gas industry'.
It appears SLOK is primarily involved in oil transportation. As they claim they 'powerfully operate in marine transport service. Involving offshore support and deep-sea transportation within the Nigerian coastal and inland waterways'. Kalu, who has also expressed his intentions to run in his country's next presidential election, serves as its chairman.
It is unknown as to whether a partial takeover is truly on the cards. Or if this is just posturing on the part of Kalu. However, if the foundry of his wealth is solid, it may well be a story which could develop into hugely exciting news for Arsenal fans.
Kalu's Champions League ambitions could spell an upwards trajectory for the north London club.