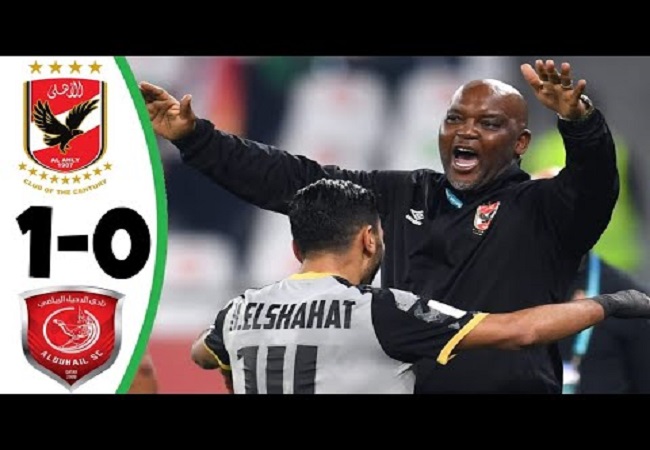 Al Ahly coach Pitso Mosimane has said the Egyptian football kings would have nothing to lose when lining up against overwhelming favourites Bayern Munich in the Fifa Club World Cup semi-finals on Monday in Qatar.
"Bayern has got pressure; we don't have pressure. They must beat us, so we gonna [are going to] have fun," the South African coach told the media in a post-match interview.
Asked about his possible approach to the match, Mosimane said: "May be frustrate them a little bit and see how it goes. We have nothing lose but everything to get…imagine we win that match; our lives will turn around our lives. It will be a very difficult match, big team, the champions, they have won the cup, they have won the league, what else haven't they won?"
The champions for the Egyptian league and CAF Champions League beat Al Duhail SC 1-0 on Thursday to reach the semi-finals.
Hussein El Shahat scored the lone goal for Al Ahly at Education City Stadium
In reaction, Mosimane tweeted: "What a feeling! Will leave to you to describe it. An emotional moment with El Shahat. Yes, Shahaat! Again! You and the boys represented Egypt and Africa very well. Alhamdulilla. Shukran!"
The Red Eagles' victory over Al Duhail SC is the club's fourth in the competition's history.
Al Ahly now hold the record of most wins for an African and Arab team in the competition's history, surpassing Raja Casablanca who won three matches in two appearances in the competition.
"Al Ahly comes fifth in the list of the clubs with most wins the competition and we need only one victory to jump to the third position behind Real Madrid and Barcelona, who won 10 and 7 matches respectively. We cemented our position in the list ahead of many European superpowers like English giants Manchester United and Liverpool. Also, Al Ahly reached the semi-finals for the third time, becoming the Arab and African club with most appearances in the Club World Cup semis," Al Ahly website reports.
Al Ahly will face European champions Bayern Munich on Monday.