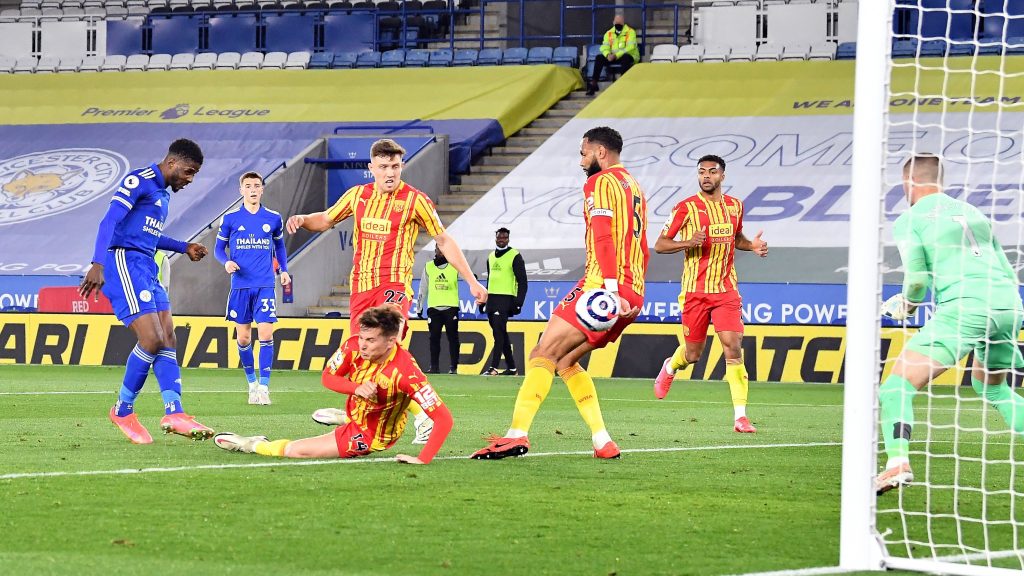 Kelechi Iheanach continued his goal scoring for me as he edge closer to equally Harry Kane record after scoring in Leicester City 3-0 victory against West Brom .
The forward has now scored 13 goals f9r the Foxes in all competitions this season.
He is now two goals away from matching Kane's record who have scored 15 goals this calendar year so far.
The Foxes increased their point yally to 59 from 32 matches so far thanks to goals from Jamie Vardy, Jonny Evans and Iheanacho.
Reacting after the game, Leicester City manager Brendan Rodgers said he was pleased with Iheanacho and his teammates performance.
Speaking with 
LCFC TV
, Rodgers said at this point of the league , there should be no room for complacency.
He described the goal scored by Iheanacho and Vardy as top class goal.
"[It was a] really good win . 
"Any win in the Premier League is very important and against a team in form, so we're really pleased.
"The goals [were] excellent. 
"Two really top-class goals and then Jonny [Evans], anticipating for his header, and that was nice.
"First half, I wasn't happy, to be honest. 
"Too many loose passes, too many mistakes, giving the ball away too much. 
"But, in terms of the goals, in terms of our press and intensity, that was pleasing."
However, despite all three goals coming in the first 45 minutes, Rodgers felt City performed better after the interval and did well to maintain their shutout against a Baggies side that had scored eight goals in their previous two Premier League outings.
"[In the] second half, we could control the game better," he added. 
"They obviously changed their shape, really blocked it up.
"So, we then were able to work the ball side to side and control any threat that they may have. 
"We defended set pieces well to keep a clean sheet, so yes, a good win for us.
"You obviously want to score more goals if you can, but we didn't have to. 
"We could control, we could conserve the ball, keep the positions on the field, pass it, and like I say, they did that very well."