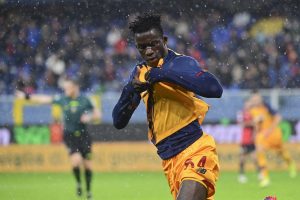 Jose Mourinho has heaped praise on Ghanaian teenager Felix Afena-Gyan who came off the bench and won the game for AS Roma and promised to buy him pair of shoes.
Mourinho's team was plagued with injuries and absence after the international break as the Portuguese scrambled for tactical approach.
Substitute Felix Afena-Gyan scored twice – his first goals in professional football – to clinch the three points, on a day where injuries and absences had left Mourinho scrambling to find tactical solutions.
Mourinho in his post-match revealed that he promised to by the 18-year old Ghanaian born a pair of shoes.
He said; "I promised him that [if he scored] I would buy him a pair of shoes that he really likes, that cost 800 euros.
"So he came over to me and told me not to forget that! Monday morning I will go and buy them.
"Then Monday after the Primavera will be playing – and I'm sorry for Alberto De Rossi but Felix won't be playing with them."
Speaking on how he discovered the player, Mourinho said;
"The Primavera train near us, on a synthetic pitch though – which can be a handicap in terms of the growth of some of these young players.
"Felix, along with another four or five, has been training with us since the start of the season.
"When I first watched him, I think the thing that most impressed me was his calmness in front of goal.
"If he might not be a phenomenon in terms of his technique, in front of goal he is deadly.
"I was also struck by his humility, because often among the new generation you find kids who think they already know everything, who don't have that humility.
"But he is the opposite. He is absorbing our attitude, both mine and that of his teammates.
"You can see he's learning off everyone. It's great to see that evolution.
"I am just sorry for coach De Rossi because he has lost Felix – although I am sure he is very happy for the boy too."
Reacting on the outcome of the game, Mourinho said Felix introduction to the game changed a lot of things.
"I totally agree. When Felix came on he changed the flow of the game.
"He comes on and is going up against a side that has already run a lot, because we had most of the ball.
"Even without creating a lot, and obviously without scoring, Tammy [Abraham] and [Eldor] Shomurodov put in the work and kept making runs. Rick Karsdorp played really, really well.
"El Shaarawy put in a massive effort to adapt to the way we were playing – because he is clearly a classic winger, an attacker, and in this game he worked really hard for us.
"But this boy [Felix] has that intensity too. In a different way.
"Shomurodov was running out of gas and so he came on and gave the team a different edge.
"I always thought we could win the game, although the thought that we might end up drawing did flicker across my mind in moments and that would have been frustrating – even if I would have still had a positive feeling about the attitude the players showed and the desire they had to win.
"Even against Venezia we played well, but we have been coming off a few tough results and I think even the players were feeling the pressure a bit before this one."