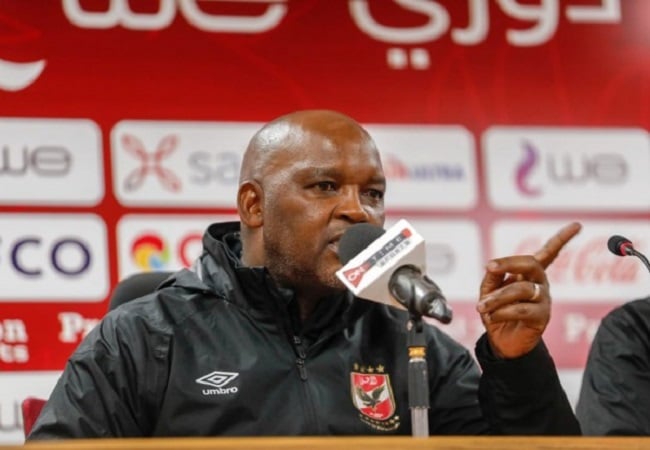 Smouha smashed Al Ahly with three goals to nil on Thursday in the fourth round of the EFA Cup. The Egyptian Premier League giants are therefore eliminated from the first-ever edition of the domestic tournament.
Smouha's new signee Mohamed Abdel-Aty scored the first goal for Smouha in the 27th minute. Moroccan winger Abdel-Kabir Wadi then after achieved a brace coming in the 48th and 51st minutes.
Ahly's defeat left the Red Devils at the bottom of group six with only three points. Meanwhile, Smouha raised their total points to seven to lead the group and advance to the next round.
EFA Cup regulations state that each leader of the three groups will qualify to the knockout stage along with the best second placed from all the groups.
Ahly's South African coach Pitso Mosimane decided to begin the game with his available important players, including Mohamed 'Afsha' Magdi, Hussein El-Shahat, Taher Mohamed and the South African striker Percy Taw.
"There are no excuses. But we have players infected with COVID-19, in addition to the fatigue that other players suffer from after their return from participating in the Arab Cup. Also the fact that we have players in the Africa Cup of Nations and they suffered severe injuries." Mosimane told post-match press conference.
"This is a difficult situation, of course. And we have nine days before the Club World Cup. I hope that everyone will be back and fully fit. We are still waiting because those who have returned after contracting Corona have lost a lot of weight.
"This was not a friendly match and we do not make excuses. But as I said we have players who were not available." Added the South African mentor.
Also Read : GRAY AREA AS AL AHLY MADE COMMENTS ABOUT PITSO MOSIMANE'S FUTURE
The Reds are scheduled to participate in the FIFA Club World Cup in the United Arab Emirates. And their first match will be on 5 February against Mexico's Monterrey.