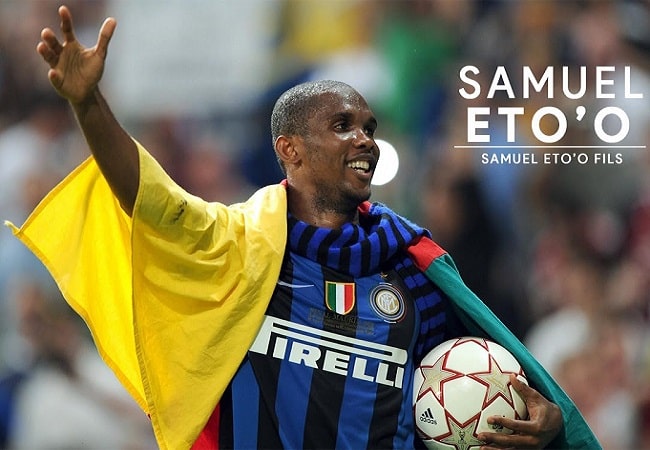 Former Inter Milan striker Samuel Eto'o announces a friendly game at San Siro on May 23 with many other football legends such as Francesco Totti, Andrea Pirlo and Leo Messi.
Eto'o has now become the president of the Cameroon Football Federation – FECAFOOT. And the former Barcelona star has organised a friendly game in Italy to raise funds for his NGO and Slums Dunk.
"I don't want to talk about football, but what this sport can do to favour inclusion and integration." He told La Repubblica.
"It's an extraordinary tool because it overtakes obstacles and speaks every language. I played in many countries. And both Spain and Italy welcomed me warmly. The message is that we can live all together, respecting each other even if there are clubs that think they are more important than others and tend to reaffirm certain hierarchies.
"I believe in multi-culture." He continued. "Sport is great because it has a role for everyone. I also faced monkey chants and I had issues in the streets as well. But I can tell you that Italy is the least racist country in Europe and perhaps the least hypocritical.
"My family still lives in Milan. My wife feels well there. Those in the stadiums are minorities that ruin the country's image. I don't understand how they haven't yet solved this problem. In England, they've managed to do so. We should never give up and focus on the children who return home and hear the adults talk about these things in a certain way."
Also Read : SENEGAL HIT BY FIFA SANCTIONS FURTHER TO WORLD CUP QUALIFYING GAME AGAINST EGYPT
Leo Messi, a former teammate of Eto'o at Barcelona, will be at San Siro on May 23 for the friendly game along with other football legends. Wesley Sneijder, Andrea Pirlo, Clarence Seedorf, Paulo Dybala, Pippi Inzaghi, Andriy Shevchenko and Lilian Thuram, among the others, will also attend the game.
Eto'o also shared his view on the Ukraine war and raised awareness about the many conflicts ongoing in Africa.
"Wars are so bad. There are many in Africa even if the names of those involved are not known." He said.
"It seems that nobody is interested in them. But African people felling their countries are not welcomed well despite Europe using our gas, our diamonds and our resources.
"Sport has a strong voice and must go beyond prejudices. At Wimbledon, it would have been nice to make Russian and Ukrainians play together in doubles to show that living together in this world is possible, especially when we play together without creating a false feeling of superiority."
Eto'o spent two seasons at Inter, scoring 53 goals in 102 appearances. He joined the Nerazzurri from Barcelona in a swap deal with Zlatan Ibrahimovic. And he was part of the team that won the treble under José Mourinho in 2009-10.