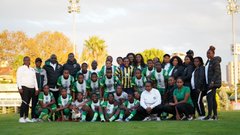 The Flamingos, Nigeria's U-17 national women's team, are due to depart from Istanbul, Turkey tonight (Thursday) for New Delhi, India, where they will compete in the FIFA U-17 Women's World Cup from October 11 to October 30.
On Tuesday, October 11, 2022, the Flamingos are anticipated to depart for Goa, where they will play their inaugural match against Germany.
At Kalinga Stadium in Bhubaneswar, the official opening match pits hosts India and the USA against one another.
The Flamingos have been training in camp for the past ten days and have played two exhibition games against two of the top senior women's club teams in Turkey, defeating Galatasaray 3-1 and falling to Fenerbahce by the same score.
 "We played two friendly games in Turkey, the first one against Galatasaray ladies.
"We played with our first squad under the direction of head coach Bankole Olowookere and prevailed, but we fell short against Fenerbahce since we fielded the second team.
 "From those two games, we saw sharpness and improved tactical play from the girls and hopefully, they will be very competitive in the competition proper.
"Their form and commitment are giving us the optimism that we shall excel in India."