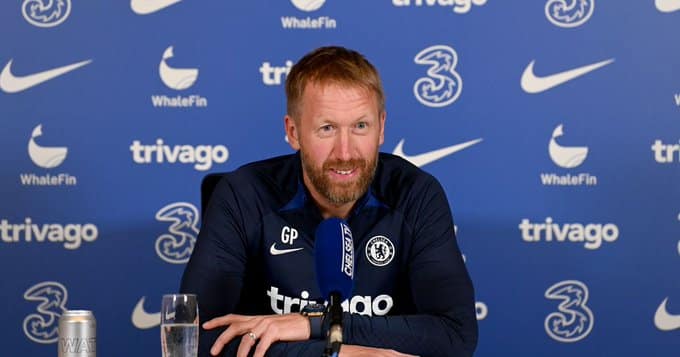 The severity of Wesley Fofana's injury against AC Milan has been confirmed by Graham Potter.
Marc Cucurella and N'Golo Kante's potential return dates were also revealed by Potter in an update prior to Chelsea's next Premier League match against Wolves on Saturday.
In an interview with the media after his team's final practice before meeting Wolves at Stamford Bridge, he talked about the severity of the injury that kept Fofana out of our Champions League game on Wednesday night and how long we could anticipate him to be sidelined.
Wesley Fofana, a defender, scored the opening goal of our 3-0 victory over AC Milan on Wednesday night at Stamford Bridge. However, his game was cut short before halftime after he was seen clearly struggling with a knee issue after being fouled by Rafael Leao.
Potter fortunately revealed that the injury doesn't appear to be as serious as first thought.
"Wesley's knee's not as bad as we thought after the game, so that's good because it was a cause for concern at the time, but it will still be a few weeks I think.


"It's considerably better than it could be, but he will obviously be missing for a few weeks,' he explained.

'It's just a knee strain so there's a possibility we might see him play against before the World Cup.
"It depends on how his rehab goes, I don't want to put too much of a timescale on it, but there's a chance of that.'

In addition, Potter said that while he is happy with the development his squad has made in the first month of his tenure as Chelsea's head coach, he is still only taking each game as it comes and not planning too far ahead during this busy period leading up to the World Cup.

'I think we've made a little bit of progress in terms of my first day to now, as you would expect and hope.
"But there's a long way to go and I think the thing is we have to just focus on the next match.
"It's as simple as that.

"We've got this incredible amount of games to play, so rather than think too much about what will happen at the end of the season we'll just focus on the next game."
No Chelsea players are on suspension for this match, however Wolves will be missing Nathan Collins after his red card in their previous game, a 3-0 loss to Manchester City, and Ruben Neves due to his fifth booking in the Premier League.