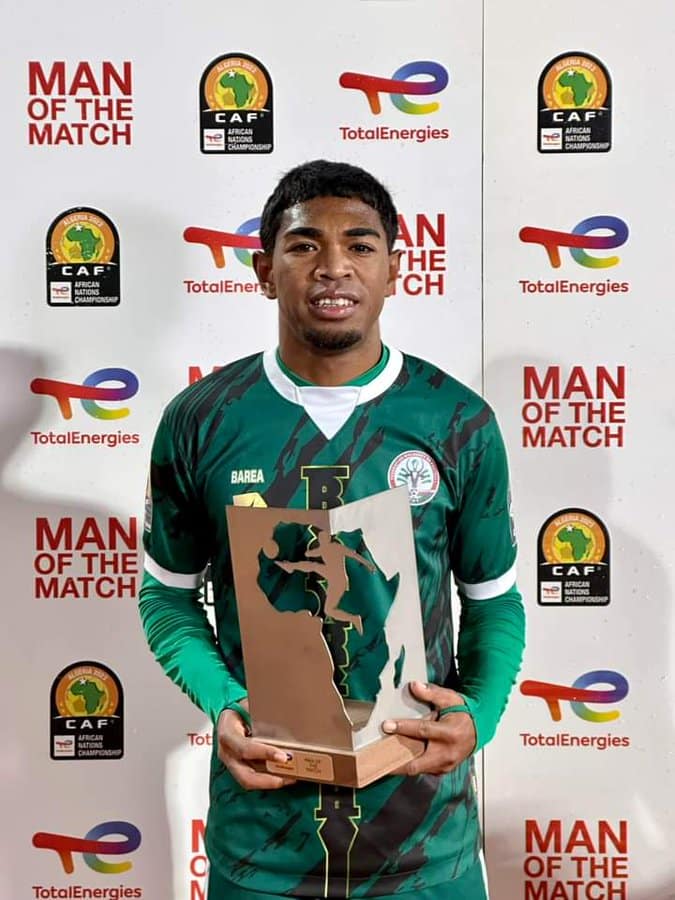 Koloina Razafindranaivo, a forward for Madagascar, claims that their audacity on Monday at the TotalEnergies African Nations Championship CHAN 2022 enabled them defeat Sudan and advance to the quarterfinals.
The attacker, who was honored as the TotalEnergies Man of the Match for the Group C match at the Mohamed-Hamlaoui, dominated the contest in Constantine, Algeria.
Razafindranaivo praised his team's guts and audacity despite the fact that they had a good night's start and only needed a draw to advance to the quarterfinals.
"In the game today, we were bolder. Though we won the first match, we weren't this bold," Razafindranaivo said.
"I am very happy to be man of the match today.
"My work on the field had its recognition today. That makes me very happy."
The CFF Andoharanofotsy attacker beat an outstretched Mohamed Mustafa with a left-footed curler from outside the box to score his team's second of three goals on the evening.
With 13 minutes remaining, his teammate Tokinantenaina Tsiry had given Madagascar the advantage.
After Lalaina Cliver's goal three minutes later secured all three points for the team of coach Romuald Félix Rakotondrabe, Razafindranaivo expanded his team's lead in the 30th minute.
With their first effort at the TotalEnergies African Nations Championship, this new generation of Malagasy footballers achieved history by winning a difficult Group C.
Razafindranaivo, who is 22 years old, is being hailed as the future of Malagasy football as he advances with CFF Andoha.
He assisted Madagascar in winning Group C and advancing to the quarterfinals with nine points once entering the big stage.
On Saturday, January 28, Mozambique, who finished second in group A, will face them at 1600 GMT at the Mohamed-Hamlaoui stadium. This will be the first quarterfinal appearance for both countries.
Source: CAFOnline