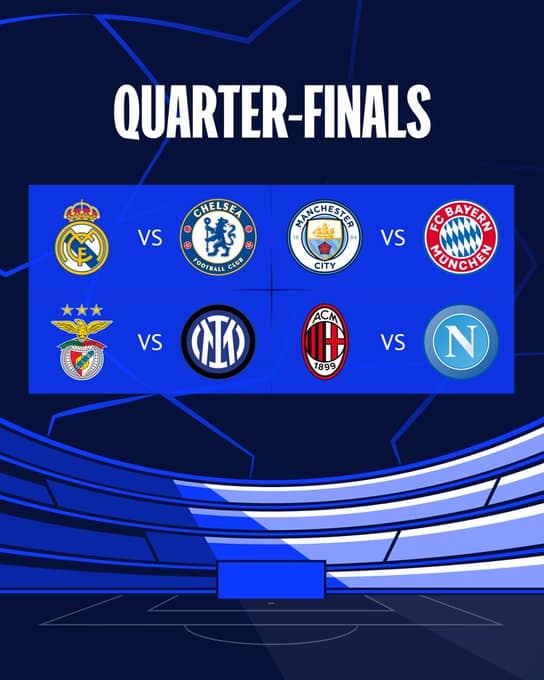 Graham Potter's Chelsea will play Champions League champion Real Madrid in the quarterfinals, while Pep Guardiola's Manchester City will face a meeting with Bayern Munich.
If Chelsea and City both win their remaining matches in the round of eight, they will face each other in the semifinal.
In the quarterfinals, AC Milan, the defending Serie A champion, will play Napoli, who are currently leading the league, and Inter Milan, who will play Benfica, in an all-Italian derby.
The quarterfinals' first legs will be played on April 11 and 12, while the second legs will be played on April 18 and 19.
The semi-final first legs are scheduled for May 9 and May 10, and the return legs are scheduled for May 16 and May 17.
Chelsea defeated Borussia Dortmund 2-1 overall in their last-16 match, but they still have a tough challenge ahead of them to go through holders Real.
The Blues lost to Real at the same stage of the Champions League last season, losing the first leg 3-1 at Stamford Bridge before giving it their all in the return match at the Santiago Bernabeu.
Chelsea, then under Thomas Tuchel's management, led the match 3-0 but lost 5-4 on aggregate after goals from Rodrygo and Karim Benzema, the latter of which came in extra time.
Guardiola's old team Bayern, with whom he won seven major championships between 2013 and 2016, including three Bundesliga crowns, will be a familiar opponent for Man City manager Guardiola.
Joao Cancelo, who has joined Bayern on loan with the option to make the move permanent for about £60 million, is another player who links City and Bayern. He will be able to compete against his original club.
Champions League quarter-final draw in full:
Real Madrid vs Chelsea
Benfica vs Inter Milan
Manchester City vs Bayern Munich
AC Milan vs Napoli
Champions League semi-final draw in full:
First legs on May 9 or May 10, second legs May 16 or May 17
AC Milan or Napoli vs Benfica or Inter Milan
Real Madrid or Chelsea vs Manchester City or Bayern Munich