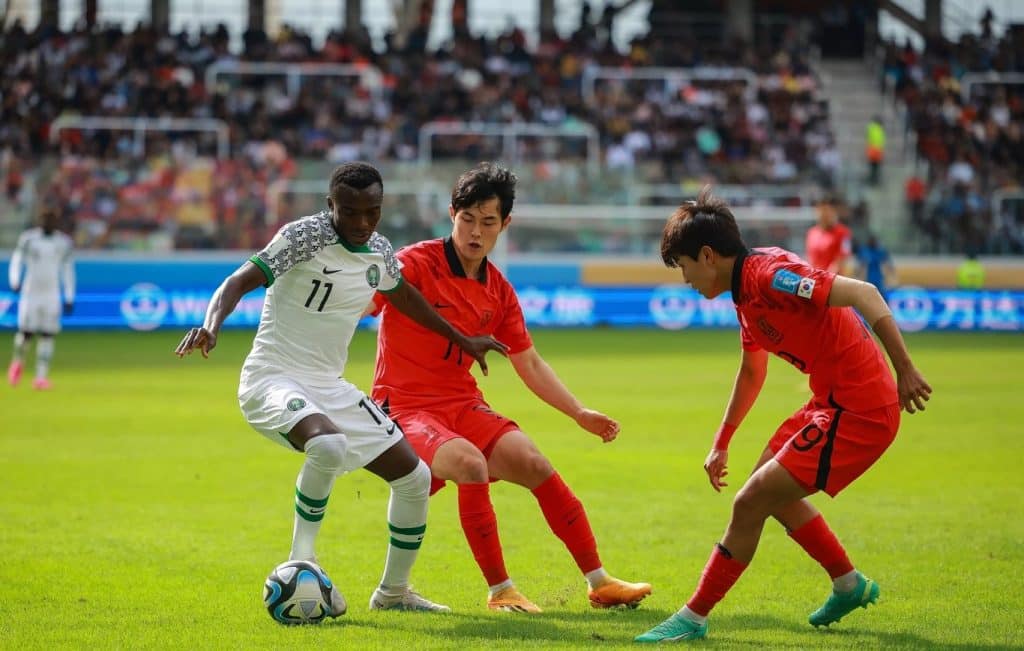 Nigeria Flying Eagles have bowed out of the FIFA U20 World Cup after slumping to a 1-0 defeat against South Korea in the quarter finals on Sunday.
Although the Flying Eagles enjoyed the early exchanges, they were unable to capitalize on them in the quarterfinal match.
Despite the fact that the game remained scoreless after regulation, South Korea scored the game's sole goal just five minutes into the extra period.
The team of coach Ladan Bosso dominated the contest, particularly in the opening and closing stages. Five corners were taken by them in the first half, demonstrating their dominance.
Victor Eletu, a famous player for AC Milan, made one of Nigeria's first attempts in the game. Kim Joonhong, though, deflected his shot for a corner kick.
The Flying Eagles kept trying to score as the game went on, but the South Koreans handled their threats. No team was able to break the tie by the time the first half was over.
Coach Bosso made a few substitutions as the second-place team from 2005 fought for a goal as the second half hostilities got underway.
Both teams became more competitive, with South Korea becoming more aggressive than in the first half. None, however, managed to locate the net.
Choi Seok-Hyun, however, required just five minutes in overtime to head in the game's winning goal from a corner kick as he flicked the ball past Kingsley Aniagboso.
In the second period of extra time, Nigeria came only inches away from tying the score, but Umeh Emmanuel's shot from the edge of the box went over the crossbar.
He had another chance to put things right. Again, in the 120th minute, his attempt could only find the side net.
In extra time, South Korea held on to defeat Nigeria for the second time in three encounters at this level.
In the competition's semifinal match, which is taking place in Argentina, the Asians will now face Italy.