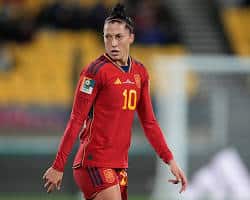 Since the World Cup final kiss controversy that resulted in Luis Rubiales' dismissal, Jenni Hermoso has been left off of Spain's women's first squad.
Hermoso, who received a kiss on the lips from the then-president of the Spanish FA (RFEF) during the celebrations after her team defeated England 1-0 on August 26, joined her World Cup-winning teammates in protest by going on strike.
The controversial Spain head coach Jorge Vilda was also fired by interim RFEF president Pedro Rocha on September 10, just days after Rubiales, who was already on FIFA's suspension list, announced his resignation.
On Friday, he received a restraining order prohibiting him from getting within 200 metres of Hermoso.
After nearly a month of intensive public scrutiny, the new head coach Montserrat Tome told reporters that she had excluded Hermoso from her first roster for her own advantage, but that she would eventually make the team again.
"We stand with Jenni," she said. "We believe that the best way to protect her is like this, but we are counting on Jenni."
Hermoso was one of the 23 players in the competition who wanted additional RFEF reform last Friday.
They did not say whether they would remain on strike, though.
"The changes made are not enough for the players to feel safe, where women are respected, where there is support for women's football and where we can maximise our potential," they wrote.
Tome was scheduled to announce her first team for the forthcoming Nations League doubleheader with Sweden and Switzerland on that day. Tome had previously assisted Vilda.
After the RFEF claimed that Spain's players had rejected their efforts to persuade them to rejoin the team at the moment, she was compelled to postpone making that statement until Monday.
With Hermoso, captain Ivana Andres, Irene Guerrero, Mariona Caldentey, Laia Codina, Alba Redondo, Rocio Galvez, and Claudia Zornoza absent, just 15 members of the World Cup-winning team have been called up so far.
"It's the start of a new phase, the clock is ticking," said Tome announcing her first squad. "There is nothing behind us and we really want to connect with these players."
Additionally, Mapi Leon and Patri Guijarro have been called up for the first time since boycotting national team duty in 2022 in opposition to Vilda's coaching style.