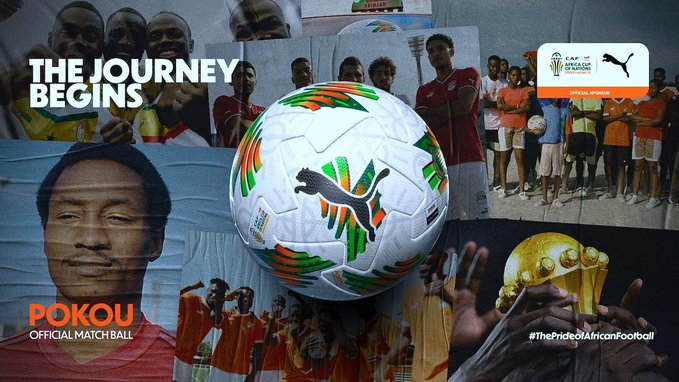 "POKOU" has been unveiled as the TotalEnergies Africa Cup of Nations Cote d'Ivoire 2023 official match ball by CAF and PUMA.
The official match ball, POKOU, is named for the renowned Ivorian forward Laurent Pokou, a doyen of African football who scored five goals in a 6-1 win over Ethiopia in the 1970 edition of the Africa Cup of Nations, a mark that stands for the final competition to this day.
The formal introduction of the ball is yet another significant step in the lead-up to the official start on January 13, 2024, after the long-term agreement between CAF and Puma that was announced on the eve of the TotalEnergies Africa Cup of Nations Final Draw in Abidjan.
During the Final Draw, Erwan, a son of the late Pokou, gave the audience the iconic and exquisitely crafted match ball.
The official ball, POKOU, incorporates the three primary colours of the Cote d'Ivoire flag—white, orange, and green—as well as cutting-edge technology that will transform the sport on the continent and outside.
"This is an emotional moment for my family. It is a great honour bestowed on my late father who gave his life to Ivorian football, to have the official match ball for a tournament taking place in no other place than Cote d'Ivoire named after him.
"The family appreciates the efforts by CAF and the Local Organising Committee (COCAN) to celebrate heroes and heroines to motivate and inspire future generations to follow in their exemplary steps," Erwan said.
The competition will take place in the towns of Abidjan, Bouake, Korhogo, San Pedro, and Yamoussoukro from January 13 to February 11, 2024.
Pokou, who goes by the moniker L'homme d'Asmara, is recognised as one of the finest players in Ivorian football history. One of the match locations for the TotalEnergies Africa Cup of Nations Cote d'Ivoire 2023 in San Pedro is named Laurent Pokou Stadium in honour of his contributions to football in the West African nation.
In a friendly match in 1967 against Ghana, he made his professional debut. He went on to lead all scorers in the 1968 and 1970 Africa Cup of Nations.
He held the record for the longest time at the Africa Cup of Nations with 14 goals, but Samuel Eto'o of Cameroon broke it in 2008. Pokou, a legend of the Ivorian giants ASEC Mimosas, also played for Nancy and Stade Rennes in France. He died on November 13, 2016, at the age of 69.