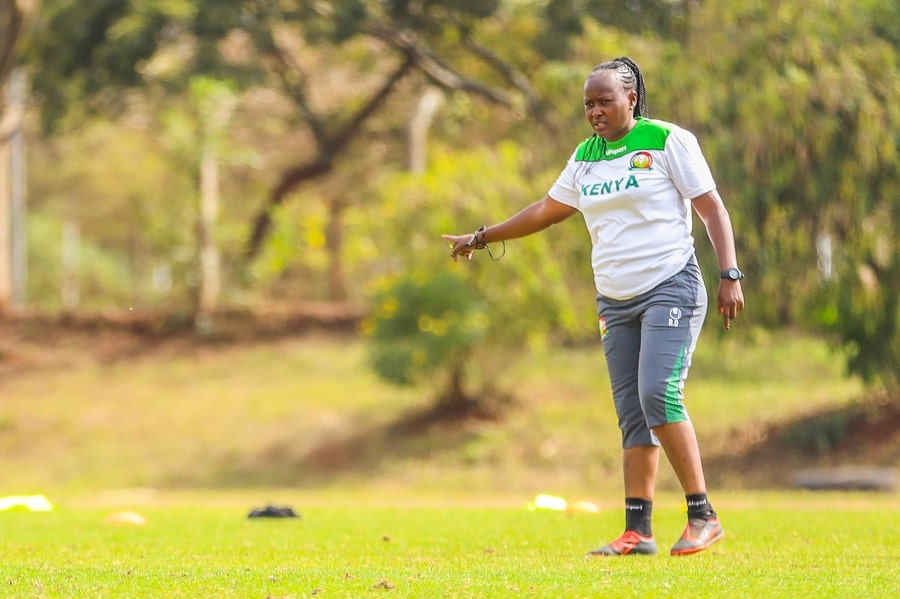 The Kenya U20 Women's National team, Rising Starlets, Coach Beldine Odemba, has named the provisional squad for the upcoming two-legged qualification round against Cameroon for the 2024 FIFA U20 Women's World Cup this November
Rising Starlets, fresh off their stunning 10-1 victory on aggregate over Angola, have now set their sights on Cameroon, with the first leg kicking off away in Yaounde on Saturday, November 11, and the return match at home on Friday, November 17.
35 players have been called up and will join the camp on Friday, November 3, 2023, and will embark on their journey to Cameroon on November 9, 2023, ahead of their first-leg clash at Stade Ahmadou Ahidjo on Saturday, November 11, at 7 p.m.
"We'll miss eight players in this round as they will sit for their KCSE exams, including our captain Jane Hato. While their absence does pose a challenge, it's an opportunity for eight new talents to shine. This new blood will hopefully integrate seamlessly with the team, and we'll have a fresh face stepping into the captain's role. We'll work hard to overcome this hurdle in the upcoming round and hopefully, in the next round, we will emerge with a stronger, more resilient team," said coach Odemba.
The winner of the tie on aggregate will face the winner of the fourth and final round, pitting Congo against Egypt. If the Rising Starlets win the round, they gain qualification for the 2024 FIFA U20 Women's World Cup to be held in Colombia.
Provisional squad; Goalkeepers; Scovia Awuor (Kobala Secondary), Christine Omolo (Butere Girls), Velma Abwire (Wiyeta Sec. School).
Defenders; Rebecca Kwoba (Zetech Sparks), Rachel Adhiambo (Acakoro), Dorcas Glender (Butere Sec.), Judith Nandwa (Butere Sec.), Ruth Akinyi (Nasokol Sec. Sch.) Charity Luhavi (Wiyeta Sec.), Ann Brenda Ochieng ( Macmillan Queens), Christine Imbenzi (Soccer Assassins), Christine Achieng (Jera Sec. Sch), Tabitha Amoit (Wadadia FC), Lavender Waswa (Bungoma Queens), Redempter Mercy (Kobala Sec.), Wendy Awino (Kobala Sec.).
Midfielders; Clotilda Auma (Butere Girls), Elizabeth Muteshi (Nakuru City Queens), Hellen Mito (Soccer Assassins), Mary Akeyo (Lwak Girls High School), Vanesa Wangari (Gaspo Women), Sunira Manda Were (Moi Girls High School Eldoret), Eunice Nabwoba (Wiyeta Secondary School), Juliet Kimberly Diego (St. Christopher's International School).
Forwards; Valerie Leah Nekesa (Soccer Assassins), Charity Midewa (Soccer Assassins), Anna Nabwire Arusi (Zetech Sparks), Elizabeth Mideva (Arch Bishop Njenga), Mollvine Achieng (KISPED), Lilian Mutanu (Gaspo Women), Sharlyne Opisa (Amus College), Fasila Odhiambo (Ulinzi Starlets), Emily Okute (Gaspo Women), Siplenda Mmboga (Kobala Secondary).