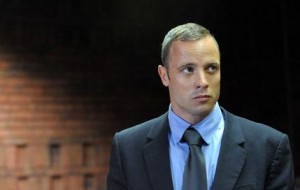 Pistorius is out on more than $110,000 bail after he was arrested for killing his girlfriend, Reeva Steenkamp, in the early hours of Valentine's Day.  He wants to be able to travel outside the country and have his in-country oversight eased.
As part of the conditions for his release, he may not travel outside South Africa and is prohibited from using alcohol or any banned substances. He may also not return to his home in Silverwoods Country Estate where he shot his model girlfriend.
Last week the athlete's lawyers filed an appeal in the capital's High Court arguing that evidence presented at his bail hearing showed he is not a flight risk and should have the option of travelling outside South Africa as long as he has official permission. The appeal said there was "no basis in fact or in law" justifying terms under which Pistorius must be supervised by a probation officer and a correctional official.
As part of the amendments to his bail conditions, Pistorius, 26, wants access to his home as soon as the investigation is complete because he plans to sell the property to raise funds for his upcoming trial. His family has confirmed he also plans to sell his shares in one of his two race horses to cover his mounting legal bills. Pistorius' finances were dealt a severe blow when his lucrative sponsorship deals with Nike and Oakley were suspended.
Read also :
http://en.africatopsports.com/2013/03/12/south-africa-oscar-pistorius-wants-to-sell-house-where-reeva-was-shot-dead/
http://en.africatopsports.com/2013/03/08/pistorius-case-the-parents-of-reevan-steenkamp-are-considering-a-civil-claim/