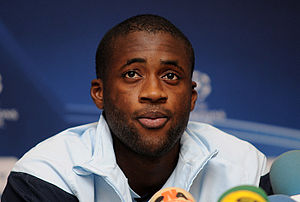 Gnégnéri Yaya Touré commonly known as Yaya Touré is an Ivorian footballer born on May 13, 1983 in Bouaké in Ivory Coast.
He is the younger brother of his Ivory coast and Manchester City teammate Kolo Touré.
He is as tall as 1.92 m.
Journey :
Outstanding midfielder, he played in the biggest clubs such as Monaco, Barcelona, Manchester City. In 2009, he won with Barcelona a sixfold unprecedented in the history of football1: Champions League, Spanish League, Copa del Rey, European Super Cup, Spanish Super Cup and Club World Cup.
December 22, 2011, he was appointed African Footballer of the year.
Career :
-2000: he started at 17 years old with the Ivorian club of ASEC Abidjan
-He had been identified the Belgian club of Beveren, a club that was up in partnership with the MimoSifcom Academia of ASEC Mimosas. He stayed in Belgium up to 2003.
-he played later in the Ukrainian championship.
-2005: he left for Grece and Olympiakos.
-2006: he signed in AS Monaco for about 5,5 million of Euros.
-Summer 2007: FC Barcelona recruited him for about 12 mpillion of Euros. On May 27, he became the first Ivorian to win the Champions League in Rome against Manchester United.
-July 2010: Touré signed a 5 year contract with Manchester City for an amount of 32 million of Euros. Yaya became the most paid player of the Premier League with 900 000 of Euros per month.
National selection :
-2006 and 2012: finalist of the African Cup of Nations
Distinctions : 
-2008 and 2009: Ivorian best player of the year
-2011: African player of the year.
Yaya Touré is one of the nominees for the Best African football player of the year.
To vote for him, click here : http://www.africatopsports.com/africatopsports-awards-2012/