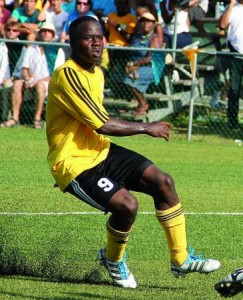 In what just might be the biggest game of his professional career, Bahamian soccer player Lesly St. Fleur is set to play in a huge televised soccer match tonight.
He started to prepare mentally for the match, on Friday. St. Fleur will be featured in prime time, live in Jamaica, during Red Stripe Monday Night Football.
He and the Montego Bay United will take on the Boys Town Football Club. The game is set for a 9 p.m. kick-off, at Catherine Hall. The two teams are the top squads in the premier league. With less than 17 games left on the schedule, St. Fleur said it is a must that the Montego Bay United get this win.
"I like my team's chances in this game. This is one of the biggest games this season for us," said St. Fleur.
"This match is one that will be televised, so we need to show the other teams that we are ready for the championship.
This is my first full season with the team. I played in the last round, last year with them but I am doing a full season this time. I have seen tremendous improvement in my game, since I started playing with them.
The changes have made a total impact in my overall game. I play left wing, which is left back and forward."
The Montego Bay United currently have a 7-6-2 win/loss/draw record.
They won 3-2 in their last game against the Highgate United, which was played on Sunday past. In that game, St. Fluer scored the third goal, in the 42nd minute. St. Fleur is the leading scorer for his team and is fifth overall.
His biggest game was against the Savannah Football Club. He scored two goals in that game which the team won, 4-0. The Red Stripe Monday Night Football game can be seen on www.cvmtve.com.