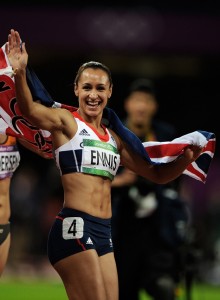 Born on January 28, 1986 in Sheffield, Jessica Ennis is a British track and field athlete specializing in multi-eventing disciplines and 100 m hurdles. She is coached by Toni Minichiello who has coached her since she was eleven.
Jessica Ennis has been voted British Olympic Athlete of the Year for 2012 by athletics fans across the country.
She is the former European and world heptathlon champion and the former world indoor pentathlon champion.
Ennis secured 48% of the vote, beating double Olympic Champion Mo Farah by just 4%.
After winning silver in the pentathlon at the World Indoor Championships in Istanbul in March, Ennis' crowning glory was winning heptathlon gold at the London Olympic Games to the delight of the 80,000 capacity crowd. The Sheffield star was delighted to receive the award
"Thank you to all of the UK Athletics fans for voting me the British Olympic Athlete of the Year – what an honour! ": she said.
"The support of all the athletics fans is so important for us athletes and this year especially your support at all the events running up to London was so important. What a great year 2012 has been!" , she added.