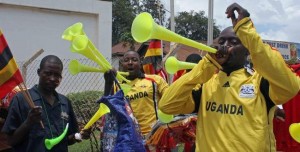 The two countries intend to co-organize in the coming years the finals of the African Cup of Nations of football. This was announced by the FUFA (Federation of Ugandan football).
According to MTNFootball.com the Ugandan federation has already begun lobbying the CECAFA peers. This is also Kampala that hosted and won the 2012 edition of the soccer competition of East Africa.
"We have the talent in the region and we believe that sticking together would give us more chances," said Mujib Kasule, vice president of FUFA.
Proposals were also sent to various governments. But it remains unclear which edition of Afcon the two countries are willing to organize. The one of 2015 is attributed to Morocco and that of 2017 to Libya.
Only Ethiopia and Sudan have organized an African Cup of nations in this region of Africa.