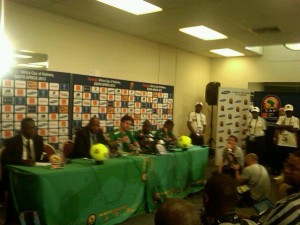 As a prelude to the first match of Group D between Togo and Côte d'Ivoire, scheduled Tuesday, Togo faced the press.
The Hawks represented by the vice-captain, Serge Ognandon Akakpo and Floyd Ayité with their coach, Didier Six, explained the ambitions of Togo for this 29th edition. Pass the first round whatever the opponent looks like.
"It is the most difficult group in this Afcon. With the Ivory Coast, Tunisia and Algeria; Togo also has a chance in this group".