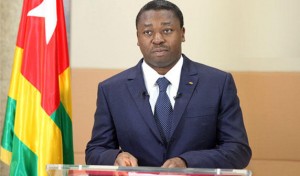 Here is a confirmation of the ever growing interest of the President of the Republic of Togo to the king of sports in his country.
Often heckled for his lack of involvement in the incessant crises in the FTF (Togolese Football Federation), Faure Gnassingbé seems to have taken the adequate measures.
Starting last month by his involvement in the return to the selection Emmanuel Adebayor and Kossi Agassa.
On Tuesday, the Togolese Head of State was taped and it is on his Twitter account (@ FGNASSINGBE) that he delivered his state of mind. Before the match, he believed very strong and posted "Go Hawks, the whole Togo is behind. Indulge yourself in the field and honor us, the festival will be beautiful." At halftime, there is hope: "1-1 everything is still possible! All with the hawks "during the second period:" KEEP NOT CRACK TOGETHER. "
At the end, Togo lost 1 against 2 goals but Faure Gnassingbé admired the performance of his compatriots: "Bravo Hawks. You have given everything. National pride. We believe more than ever. Thank you for this very high level of performance. "
Read also:
http://en.africatopsports.com/2013/01/04/afcon-2013-president-faure-gnassimgbe-supports-the-hawks-of-togo/